Ranjani is traveling to India next week (Lucky!) and she said she has little space left in her suitcase! (unfortunately I can't fit in
). I planned to send something from my DIY collection for my Mom and MIL. Something about Fall makes me want to decorate tote bags. I found a pair of plain tote bags in my craft bag. I thought a hand painted tote would be a perfect little gift and this trendy bag will have them saying "no thanks" to plastic bags. So if you want to decorate a tote bag and go green, I am here to help you.
Here's what you will need
Canvas Tote Bag

Fabric Paint

Sponge Brush/Paint Brush

Stencil

Foam Plate/Palette

Sellotape

Cardboard/Old Magazine
Step 1 Place a sheet of Cardboard/Magazine inside the bag which would keep the paint from leaking through the bag.
Step 2 Place the stencil on the bag, pick a design you want to paint and secure it with tape.
Step 3
Squeeze out some paint on the palette and dip the brush in the paint and start dabbing in up and down motion on the cut-out area of the stencil.
Step 4 Continue dabbing until the entire area has been painted and slowly peel off the stencil from the bag and you are all done.
Step 5 Let your imagination run wild! With your desired pattern and colour, repeat the above steps to paint the rest of your bag. Once done let the bag dry for 4-5 hours and don't forget to paint the other side of the bag .
Here's what I made, Tada!
Notes
(Optional) Wash the bag before starting the project and iron it. Read the instructions on the bag, mine was pre-washed.
I really hope they like the totes
!! Try it yourself and send us a picture or if you would like to share your design ideas, leave a comment below. Have a nice weekend
!
Linking this post to
A life in balance- motivation monday link party
craftastic-monday-link-up
The-diyers-57
we-did-it-wednesday-199.
Gingham & Roses Link Up & Social Media Hop #10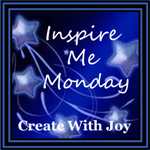 <